CASE 25

「General Incorporated Association Fuainet (Ibaraki Prefecture, Japan)」
Main Article - The second Four Towns Networking Event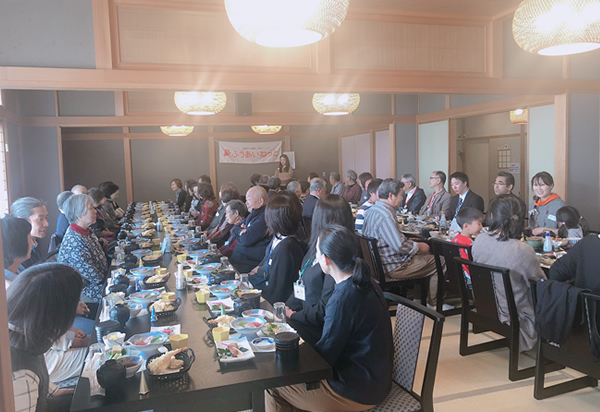 On Wednesday, November 13, 2019, the second Four Towns Networking Event was held at the restaurant Aji no Mise Harada in Kasama City, Ibaraki Prefecture. The event was held by Fuainet, a general incorporated association. About 60 people participated in the event, including evacuees living in Ibaraki Prefecture and their supporters.

Fuainet was founded on May 30, 2012. Its mission is to help the people who evacuated to Ibaraki Prefecture after the Great Eastern Japan Earthquake and Fukushima Daiichi Nuclear Disaster adjust to their new lives and get in contact with one another. The organization engages in a wide range of activities to support evacuees. These activities include planning and holding networking events to give evacuees a chance to socialize, and introducing evacuees who need help?consultations on legal matters, for example?to specialist organizations.
The second Four Towns Networking Event was attended mainly by former residents of Futaba County, Fukushima Prefecture. Festivities at this lively affair included a Kasama ware ceramics workshop in the morning as well as chatting over lunch and playing bingo in the afternoon. There are still 3,290 evacuees living in Ibaraki Prefecture (as of October, 2019, as reported by the Reconstruction Agency). Networking events like this are a chance for participants to get some relief.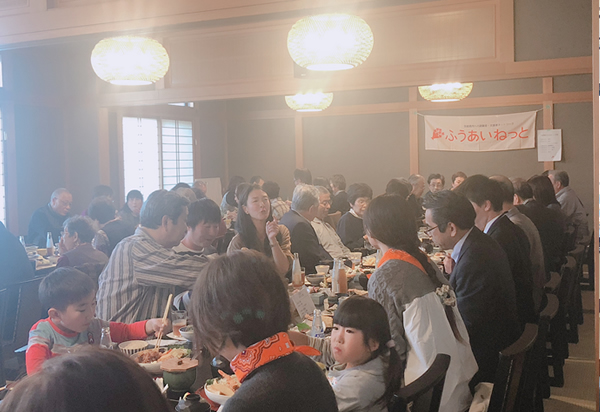 "This was my first time coming to an event like this. I ran into a former classmate from my hometown. We talked about the old days, and it cheered me up a lot," commented one participant.
"I talked to a lot of people and got information on Ibaraki as well as Fukushima. It gave me the spirit to keep doing my best here in Ibaraki," expressed another.
The head of Fuainet, Yayoi Haraguchi, said, "With cooperation from our supporters and the neighborhood association, we held this networking event for evacuees to share the memories of their hometowns with each other. I'm delighted to see everyone smiling." She added that many evacuees in Ibaraki are trying to rebuild their lives by starting their own businesses, and so she wanted to broaden the scope of the organization's support for such evacuees. She also went on to say that there are still many evacuees outside of Fukushima who do not have opportunities to participate in networking events like these, and that there are still "invisible issues" that she and the organization are not aware of.
Upon witnessing participants, Fuainet staff, and supporters at the event talking on equal footing with smiles on their faces, I was filled with the strong hope that events of this kind continue to be held in the future.


※Please Contact below email for any Inquiry.
<NPO Medical Network Aid Center>
Email : contact@medical-bank.org