CASE 23

「Yamanashi-Fukushima Prefectural Association (Yamanashi Prefecture, Japan)」
Main Article - The Yamanashi/Kanagawa Tohoku Furusato Meet-up Event
On Saturday, September 21, 2019, we visited Kikori, a facility in Fuefuki City, Yamanashi Prefecture.
Currently, there are 537 disaster victims who are unavoidably having to live in Yamanashi Prefecture (as of October 29, 2019, according to the Reconstruction Agency).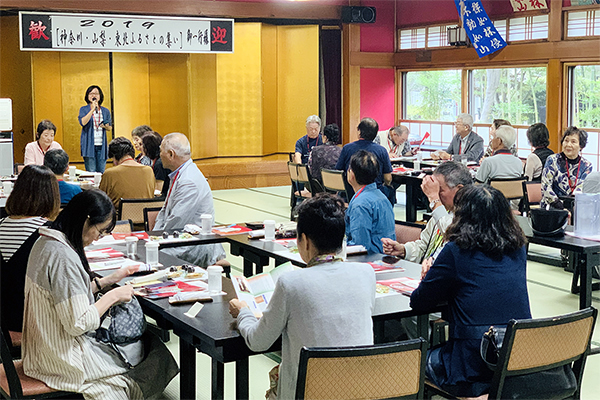 An association to connect the Great East Japan Earthquake evacuees living in Yamanashi Prefecture with supporters was established in the prefecture in September 2011, with the members of the Yamanashi-Fukushima Prefectural Association playing a central role. (The association is informally called "Musubukai.") The association has been actively involved in various support activities. In particular, it has conducted surveys every year (seven times total) aimed at evacuees who fled the disaster and are living in other prefectures. It has also been holding networking events all over Yamanashi Prefecture more than ten times a year, adapted to keep in line with the evacuees' current situations and changing issues.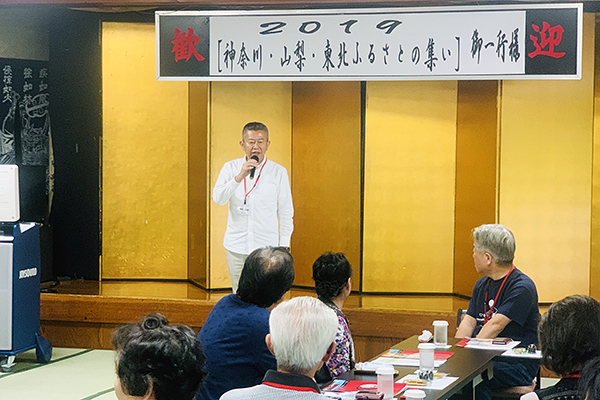 On the day we visited, the Yamanashi/Kanagawa Tohoku Furusato Meet-up Event was jointly held with Kanagawa Hinansha to Tomoni Ayumukai (commonly called "Ayumukai"), an NPO established to support disaster evacuees in Kanagawa. This was the second time this event has been held. The first event was held in July last year. It was held with the aim of offering an opportunity for evacuees in Kanagawa and Yamanashi Prefectures to get to know each other in spite of the distance between the two prefectures, talk about the old days in their own dialects, and share the issues they were currently facing in their lives as evacuees. The venue this time, Kikori, was one of the facilities that had openly accepted evacuees from Tohoku after the Great East Japan Earthquake. Some of the participants had started their new life in this facility right after they fled the disaster.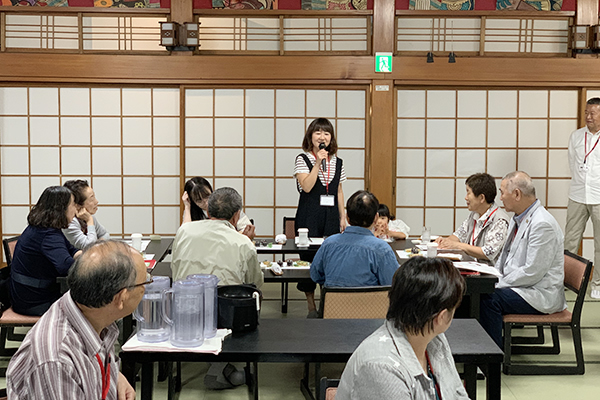 On the second day, which was when we visited, the networking event was held in a friendly and warm atmosphere. Forty-four people in total participated, including twenty-six evacuees and seven supporters who had come all the way from Kanagawa Prefecture. Everybody enjoyed the reunion. First, there were self-introductions among participants, with Naito from Ayumukai acting as the MC. Each participant talked about their concerns about their hometown and their current life as an evacuee, and everyone listened carefully. It was a very meaningful time, where everyone got to understand each other on a deeper level.

After that, everyone enjoyed a meal and reuniting in a really relaxed atmosphere. The participants now living in Yamanashi or Kanagawa Prefecture had evacuated from various places, such as Minamisoma City, Tomioka Town, Okuma Town, Namie Town, and Fukushima City in Fukushima Prefecture, and Ishinomaki City in Miyagi Prefecture. They rarely meet people from their hometown in their daily lives, so the event was a very happy one for all of them.

At the end, Yukio Fujiwara, the president of Musubukai, expressed the following strong wish: "Musubukai's final goal is to be dissolved. When all the evacuees have permanently settled in Yamanashi Prefecture and can return to a normal life, and our activities are no longer needed, we can disband the organization. However, more than eighty people will be participating in next month's event. That means that these kinds of activities are still necessary. We will continue to offer support activities in the right place at the right time while actively communicating with evacuees and support organizations."


※Please Contact below email for any Inquiry.
<NPO Medical Network Aid Center>
Email : contact@medical-bank.org