CASE 21

「NPO Ehime 311 (Ehime Prefecture, Japan)」
Main Article - Bon Festival Dance performed to mourn the Great East Japan Earthquake and to pray for recovery
On August 20th (Tues.), 2019, the Tohoku Shikoku Kokoro Ikikau Bon-Odori Taikai (a Bon dance festival to achieve mutual understanding between the Tohoku and Shikoku regions), featuring a Bon Festival Dance performed to mourn the Great East Japan Earthquake and to pray for recovery, jointly sponsored by NPO Ehime 311 and the Bon-Odori Exchange Meeting Executive Committee, was held at Ishite-ji Temple in Matsuyama City, Ehime Prefecture.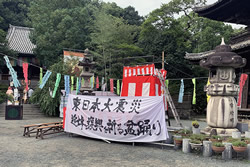 NPO Ehime 311 was personally established and is currently operated by a group of people who evacuated to Ehime Prefecture from Fukushima Prefecture due to the Great East Japan Earthquake, and it conducts activities throughout the entire Shikoku region with a focus on Ehime Prefecture. Just after the earthquake, more than 600 people affected by the disaster evacuated to various areas within Shikoku, and approximately 240 of these currently remain. In Ehime Prefecture, where the majority of them reside, 107 people are still living as evacuees. Under the motto of "getting close to each and every person's heart and solving problems together," NPO Ehime 311 has provided support from all angles, including setting up a counseling service for evacuees, disseminating information, making personal visits and holding social gatherings.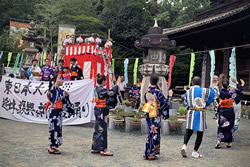 One of their activities is this Bon-Odori Exchange Meeting, which marks its 4th anniversary this year, held to enable exchange between local residents and those who evacuated to Ehime Prefecture and other areas of Shikoku due to the Great East Japan Earthquake. In addition to lecturers visiting from Minamisoma City, Fukushima Prefecture, the temple precincts bustled with a gathering of numerous evacuees, local residents and student volunteers. During the Bon-Odori, which began just after 5:30 PM, the Bon-Odori Performance Troupe, composed of evacuees of diverse ages, presented Soma Bon Uta, a Fukushima folk song. And at that time, a large group of participants formed a dance circle around the yagura tower. Local residents who participated also provided encouragement saying, "This was a very meaningful experience. We hope that they continue to pass down Fukushima traditional culture and traditional performing art to future generations." Also, following Soma Bon Uta, a Fukushima folk song, the troupe then presented Matsuyama Ondo, an Ehime folk song, which created the opportunity for people to strengthen bonds with each other through exchange of traditional culture.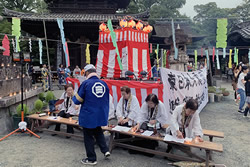 At the end, Hiroshi Watabe, representative for NPO Ehime 311, passionately addressed the crowd saying, "This Bon-Odori Exchange Meeting was only possible thanks to cooperation from local residents in building the yagura tower and other things. Eight and a half years have passed since the Great East Japan Earthquake. Many of the children who evacuated have no memory of their hometowns. Some of them may not even be able to call Fukushima home anymore. However, I would like to make use of opportunities like this to pass on to them as much valuable Fukushima culture as possible. And I hope that we would like to root our Fukushima culture to this region to which we have evacuated."


※Please Contact below email for any Inquiry.
<NPO Medical Network Aid Center>
Email : contact@medical-bank.org