CASE 19

「Fukushima Child Support Care Center of The Great East Earthquake (Fukushima Prefecture, Japan)」
Main Article - Workshop "First aid that anybody can do for children's minds" (Koriyama-Shi, Fukushima Prefecture / July 28, 2019)
On Sunday July 28, 2019, the "Child and Family Division, Children's Future Bureau, Department of Health and Welfare of Fukushima Prefecture" and "Fukushima Child Support Care Center of The Great East Earthquake" held the workshop "There is something even you can do - First aid that anybody can do for children's minds - Learning from psychological first aid for children" at the Myukaru Student Hall.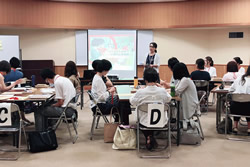 The Fukushima Child Support Care Center is an organization established to provide continuous and stable specialized care, including mental care, for children who are victims of the Great East Japan Earthquake, and their guardians, etc. who have taken refuge in and outside of Fukushima Prefecture. The specified nonprofit corporation, Beans Fukushima, is consigned by Fukushima Prefecture to grasp the situation of the children, understand the needs of their care, collect and transmit information regarding the support and care for affected children and families raising children, and carry out various support and care activities for affected children and guardians, and supporters, etc.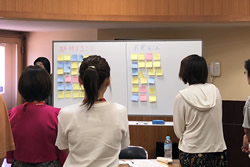 The workshop was the 6th workshop, and was held to obtain knowledge and skills that enable the provision of Psychological First Aid (PFA) to children and their families. Participants were nurses, public health nurses, child welfare specialists, nursery school teachers, nurse-teachers, etc. PFA is a useful first aid guide as a measure to be taken immediately after an incident or accident that children may encounter in daily life, e.g., a large scale disaster.

"Children (under 18 years old) respond to and think about dangerous situations that they find themselves in in a different way from adults. Accordingly, children need different support and care by age, although it is not necessary for all of the children to be given support and care." said Ms. Akiko Ito, a psychiatric social worker of the Department of Disaster Psychiatry, Fukushima Medical University and Mr. Daisuke Goto, Department of Neuropsychiatry, Fukushima Medical University.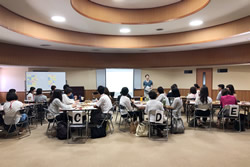 In the group work and roleplaying, children were divided into four age categories (0 - 3, 4 - 6, 7 - 12, and 13 years or older) to learn about the responses of children in each category. As the outcome of the workshop, we were able to learn that the factors that influenced the response of the children were not only age, but also their development stages and experiences. We also learned that we should focus on what we can do for the children, and whether an environment that provides care for their minds has been established, etc.

The participants gave comments such as "Participating in the workshop has enabled us to consciously see the children," "I found that it is important to share things with an organization if necessary, not just solving them ourselves."

Mr. Tsubasa Koseki of the Fukushima Child Support Care Center, who acted as the host of the workshop, said "Children who are overlooked need immediate attention by others in urgent circumstances, or when a disaster occurs, and they also need to be approached appropriately, according to the situation. We will continue to hold such workshops in the future in order to promote the "care of minds" for children."

<Reference>
Website for Fukushima Child Support Care Center of The Great East Earthquake
http://ccscd.beans-fukushima.or.jp/

Website for Save the Children Japan
「Psychological First Aid for Children」
https://www.savechildren.or.jp/lp/pfa/
※Please Contact below email for any Inquiry.
<NPO Medical Network Aid Center>
Email : contact@medical-bank.org