CASE 24

「Non-Profit Organization Kanagawa Hinansha to Tomo ni Ayumu Kai (Kanagawa Prefecture, Japan)」
Main Article - The 11th Furusato Community in Kanagawa Event
The 11th Furusato Community in Kanagawa Event for Survivors of the Great Eastern Japan Earthquake was held at Hatoba Hall in Yokohama, Kanagawa on Saturday, October 5, 2019. This year marked the eleventh holding of the event, the objective of which is to support people who evacuated to Kanagawa after the Great Eastern Japan Earthquake.
The organizer of the event, the NPO Kanagawa Hinansha to Tomo ni Ayumu Kai ("we stand with Kanagawa evacuees"), was founded on May 9, 2015 to serve as a community of people who evacuated to Kanagawa or the surrounding area due to the Great Eastern Japan Earthquake. The group's activities include planning events and helping survivors form networks and exchange information.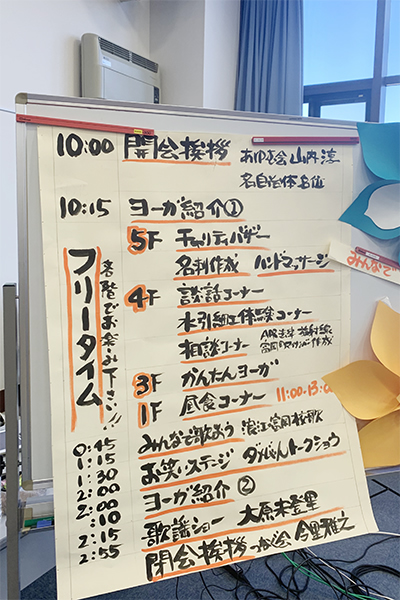 Nine years have passed since the Great Eastern Japan Earthquake, but there are still about 2,000 evacuees living in Kanagawa. Living long-term as evacuees, many face great mental and physical stress due to the struggles they face, such as separation from their communities and uncertainties about the future. By creating opportunities for people to come together, Kanagawa Hinansha to Tomo ni Ayumu Kai helps evacuees prevent loneliness and, little by little, live their lives more positively.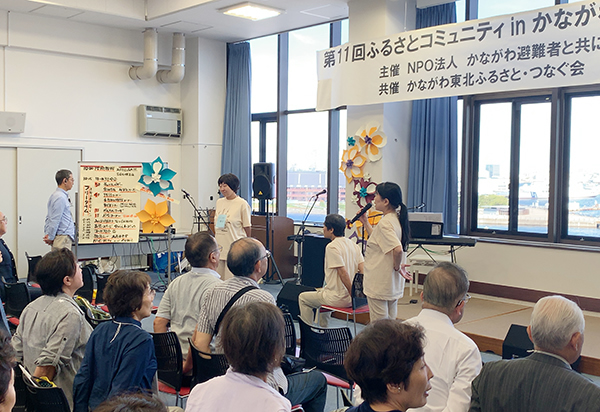 On the day of the event, the hall bustled with programs and activities. Attendees performed the school songs of their elementary and middle schools in their hometowns, towns like Namie and Tomioka in Fukushima. Guest performers put on comedy routines and mini concerts. The event was filled with the smiling faces of participating evacuees.
The gathered evacuees joining in the performances of the school songs of elementary schools in Namie and Tomioka was particularly heartwarming. Each and every attendee put passion into their singing, and, though overcome with emotion, sang their hearts out?it was unforgettable. The evacuees who sang on stage said, "This is the song of our youth. When we sing it, we feel like we're back in the old days, and it raises our spirits."
The event also had a conversation corner where attendees caught up on each other's lives and chatted, genuine smiles all around. The Kanagawa Hinansha to Tomo ni Ayumu Kai staff puts themselves in evacuees' shoes and thinks through their present challenges and future plans with them. The challenges faced are many, and there is much to come that is still uncertain. However, I believe that it is important to approach each and every challenge from the perspective of the evacuees. I now understand that we must pursue issues such as whether we are ready to provide emotional care for evacuees.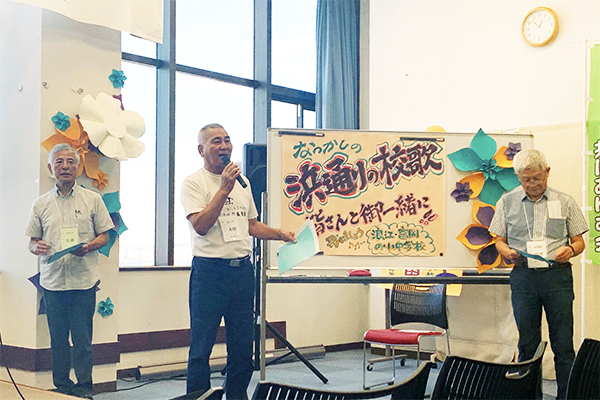 At the end of the event, Kiyoshi Yamauchi, representing Kanagawa Hinansha to Tomo ni Ayumu Kai, spoke of his hopes for future support activities. "I hope that we can keep doing things like this in the future. It is vital that we continue to retain places where evacuees can casually get together, and systems that allow us to do so."
The day filled me with the strong hope that they all keep singing their school songs packed with precious memories of Fukushima, even if they must do so in Kanagawa, so far from their homes.


※Please Contact below email for any Inquiry.
<NPO Medical Network Aid Center>
Email : contact@medical-bank.org